JERSEY CITY FASHION WEEK: CREATIVE RUNWAY FASHION COMPETITION
JCFW invites High School and College designers to submit their designs entrant for the Jersey City Fashion Week: Creative Runway Fashion Competition!!!!
The fashion industry is constantly changing, what's old becomes new and what's new becomes yesterday's news. The evolution of fashion begins with emerging designers. Their fresh perspectives on designs and trends become the determining factors that contribute to the progression of the industry.
Discovering new talent highlighted through competitions is a major factor to finding the next great designer. It is important to foster new talent and one way of doing that is by scouting.
We are seeking crafters, who create designs and clothing that showcase their originality, ability and ingenuity. Through this search we hope to provide a platform to launch the next rising star of the industry. IS THAT YOU?!?!?
Winners recieve a $500 scholarship towards their education!!!
Winners
2017 Meredith Gill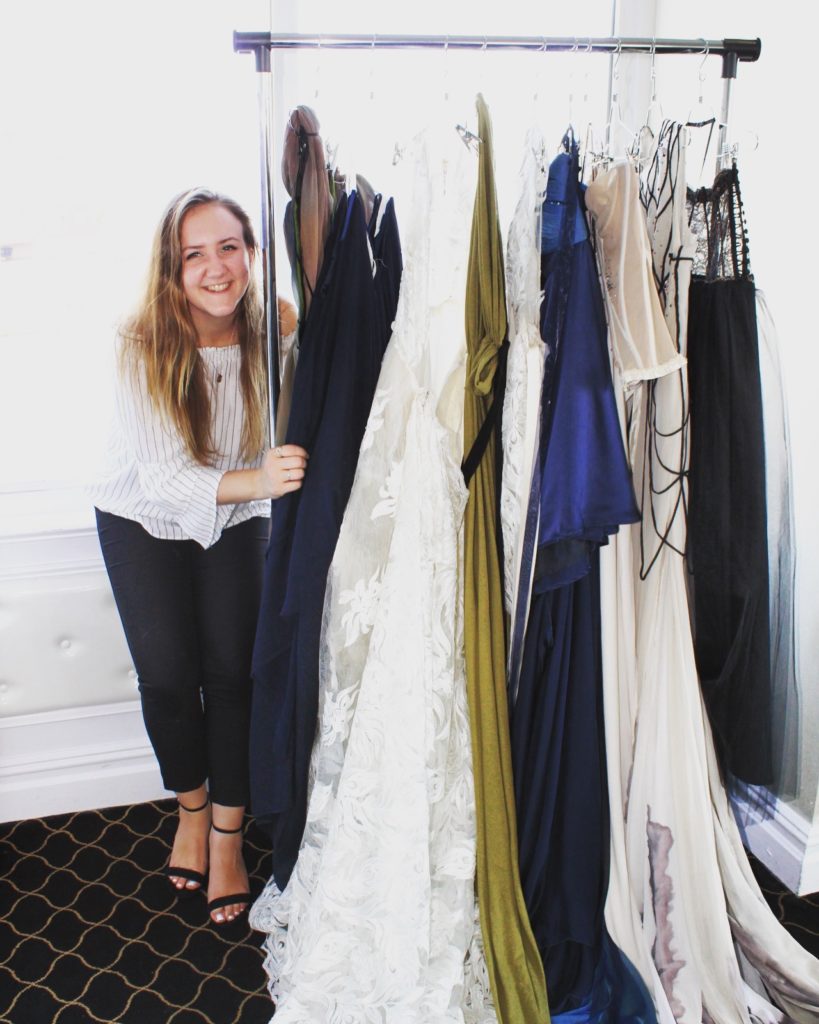 Photos by Rishabh Ohri
Meredith Gill is an American fashion designer and a graduate of the Class of 2017 at the Fashion Institute of Technology in New York City. Meredith specialized in Evening Wear and Bridal Design and earned a Bachelor of Fine Arts with a minor in Art History after already earning an Associate's Degree in Applied Sciences. Already having experience in both the Fashion and Bridal Industries, Meredith is broadening her skills by also being apart of a wardrobe team for an upcoming romantic comedy film. She was also apart of both West New York Fashion Week 2017 and Jersey City Fashion Week 2017. She has also won an award for Best Construction in the 2017 FADC Elemental Fashion Show at the Fashion Institute of Technology and won the Jersey City Fashion Week 2017 Creative Runway Contest. Meredith's drive towards her designs are taking the small details from one thing and making that the main focus of the design.
Collection Bio:
Aesthete (?es?TH?t): someone who loves and appreciates works of art and beautiful things. These ethereal, elegant, and organic designs are taken from the beauty of nature and it's little creatures.
The 2017 scholarship was donated by Stacey Pilate, Esq. of Lambariello & Pilato, LLC 37 Mountain Blvd., Suite 1, Warren, NJ 07059. 908-754-4500. www.lplawoffices.com.
2016 Winner Justin Tucker
Justin Tucker. Photo By Chapter Avenue Productions
Mr. Tucker's T-Shirt Line was featured during the Catwalk in the Park show on 9/24/16. Photo by Jean -Paul Cassagnol
2015 Winners Mia Malad and Jennifer Muzon
Desha Jackson, Founder JCFW, Jennifer Muzon, Mia Malad and Deputy Mayor Marcos D. Vigil of Jersey City. The scholarship was donated by Chastidy Divas Designer Kayana Reid and her Mother Keisha Reid.
Criteria for entering the contest
Collections:
(1) Design a 4 – outfit/garment collection for the Fall/Winter and/or Spring/Summer season that encapsulates your signature style; (2) A range of men's, ladies', or children's wear, or a
combination of both, can be submitted.
Storyboards: Your sketch must be presented in full color, and on a story boards A3 in size. Your story board must include:
(1) Technical drawings of both the front and the back of each garment;
(2) Final fabric swatches that will be used; and
(3) A motivation or description of the collection.
NB: No substitutes will be accepted.
All sketches entered will not be returned by post. However, arrangements can be made topersonally collect them from the organizers. Accuracy to your storyboard submission will be taken into consideration by the judges.
The competition is open to young individuals in High School & College students who are: (1) Students must be in good academic standing; (2) have an GPA of 3.0 or better (3) Must havefashion as part of core curriculum or as a major or minor; and (4) Have a serious interest in the fashion industry.
Competition conditions
Only the highest quality and finish will be accepted on the outfits of the finalist. Should a garment fall short of the required standard, the garment will be eliminated from the competition at the judge's discretion.
All entrants must be available for the final awards ceremony, if chosen as one of the finalists. If you are selected as one of the finalists, you will be required to produce the collection in standard model size of which the producer of the show will give to you.
You will be required to produce one outfit (four in total) from one for the categories below. Please note- Ready to Wear is a mandatory category for all designers:
(1) Ready to Wear (mandatory) (2) Pre-Fall (3) Couture/High Fashion (4) Evening Wear (5) Free-Style (6) Business Casual (7) Custom/Tailored Clothing (8) Accessories
ENTER TODAY!!!!!
See you on the runway!!!!!!!
JCFW Style with Significance. Fashion for the Greater Good on the Right Side of the Hudson