Click above to Support our mission today with a donation!
If you are interested in Sponsorship click this link here! Sponsorship Registration
DLJ Give to Live Community Foundation is the producer of Jersey City Fashion Week. (http://dljgivetolive.unitedcp.org) Our mission is to raise funds and awareness as well as to support charitable causes, events and needs of people in some of the following areas: sports, athletics, education, religion, poverty, homelessness, socio-economically depressed areas, law enforcement, the arts, sick and disabled people, children,young adults, students, women and the elderly through fashion, sports and entertainment.
JCFW 2012 donated $900 each to Dress for Success of Hudson County, York Street Project, Boys and Girls Clubs of Hudson County and Art House Productions all located in Jersey City. JCFW since 2012 has donated to the following chairites Rising Tide Capital, The Hope Center for the Visual and Performing Arts, the Snowflake Youth Foundation, Girdiron Group, Jersey City Recreation, the Concordia Learning Center at St. Joseph School for the Blind, Mo Hair Foundation, Covenant House of New Jersey, Habitat for Humanity of Hudson County, Hope House in Jersey City, Big Brothers, Big Sisters of Essex, Hudson and Union Counties and the Fashion & Arts XChange Group.
Part of our September 2017 proceeds will go to Easterseals!!! To donate please click above on sponsorship registration link.

About Easter Seals New Jersey:
Easter Seals is a leading non-profit provider of services for individuals with autism, developmental disabilities, physical disabilities and other special needs. Easter Seals New Jersey's mission is to enable individuals with disabilities or special needs, and their families, to live, learn, work and play in their communities with equality, dignity and independence.
We believe that everyone has a valuable contribution to make to his or her community and, for 60 years, our services have been geared toward helping nearly 7,000 individuals and families throughout New Jersey remove obstacles along their path toward independence, inclusion and integration. Our trained and qualified staff of professionals are caring, motivated and flexible as they fulfill the many roles necessary to provide individualized services, striving to maintain the highest quality standards.
Through our Community Support Services, we provide life-skills training, community integration, and transportation to adults with developmental disabilities at our residential and day training facilities. Our success is demonstrated via our 98% satisfaction rate of respondents indicating an enhanced quality of life due to support and services received from Easter Seals.
"Easter Seals has done more for my child in five months than a previous program was able to do in ten years."
"Because of Easter Seals, my son is becoming semi-independent – something I hadn't imagined could even be possible. Thank you, Easter Seals."
• Easter Seals is a grassroots, community-based organization. Approximately 90 percent of Easter Seals' revenue supports services in the areas where funds are raised. For more than 25 consecutive years, Easter Seals has ranked first among National Health Council members for the percentage (94 percent) of program dollars spent on direct client services. Easter Seals receives funding from a variety of sources, including private insurers, government agencies, public contributions and fee-for-service. Public contributions help cover the difference between actual program costs and what clients can afford. Easter Seals primary services benefit over 1.3 million individuals each year through more than 550 centers in the U.S., Canada, Puerto Rico and Australia.

Donation News!
2016
In November 2016 JCFW donated to Big Brothers Big Sisters of Essex, Hudson and Union and the Fashion Art Exchange Group!! Thanks for assistance of Councilmen Lavarro, Rivera and Councilwoman Watterman as well as Deputy Mayor Vigil. Also in the picture is our Creative Runway contest winner Justin Tucker and our JCFW Faces of Fashion Cara Poalillo and Victoria Brinker.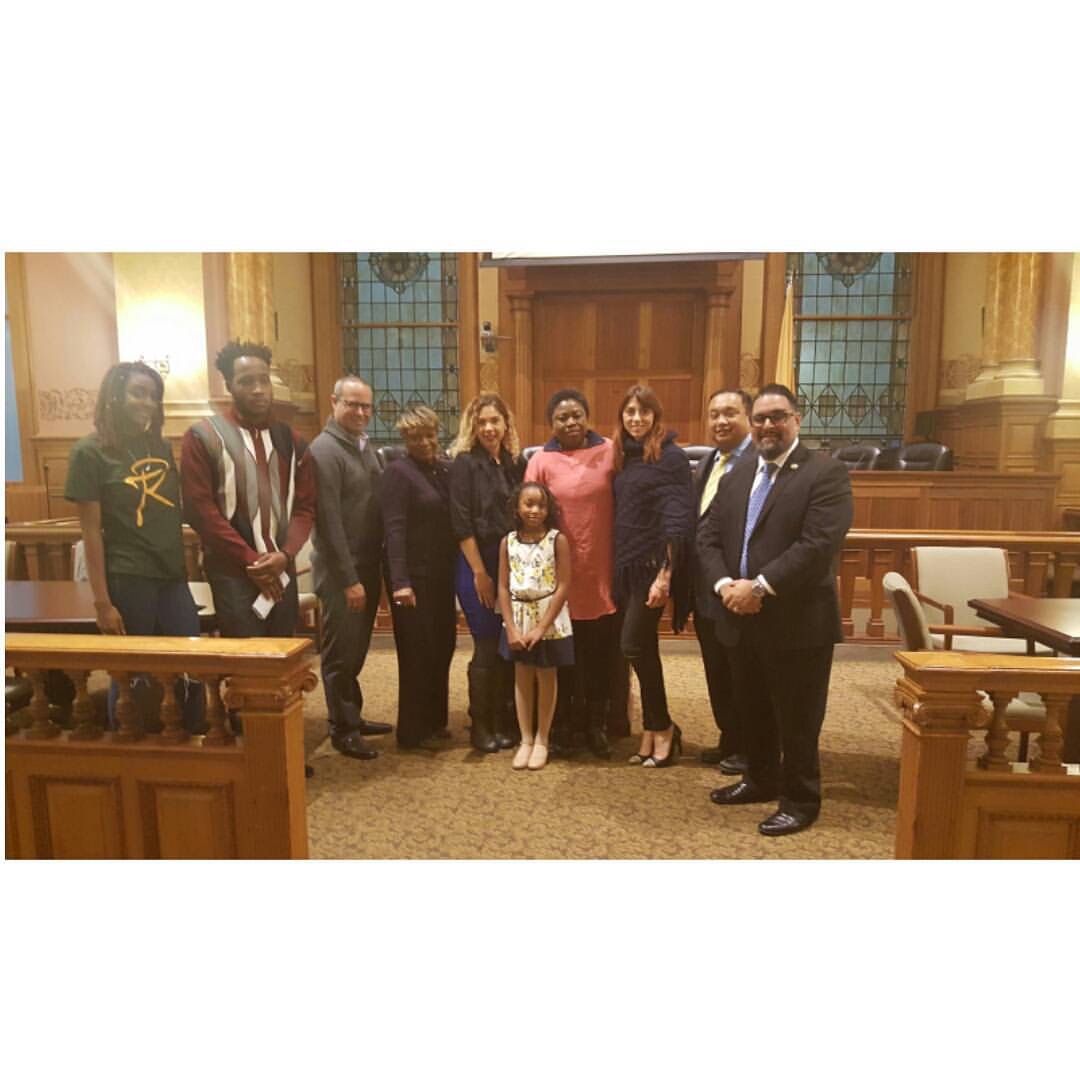 2015
In November 2015 JCFW donated part of its proceeds to groups that helped the homeless with assistance from Deputy Mayor Marcos D Vigil representing the Mayor at City Hall. The groups included Habitat for Humanity, Covenant House and Hope House.
JCFW also rewarded its first winners from our inaugural Creative Runway Contest for high school and college designers. JCFW presented two scholarships for $500 each to our winners Jennifer Monzon who attends FIT and our high school winner Mia Malmad. The money was donated to JCFW by Chastity Diva's designer Kayana Reid and her mother Keisha Reid.
2014
PRESS RELEASE *FOR IMMEDIATE PRESS RELEASE* DLJ Give to Live Community Foundation producers of Jersey City Fashion Week donated proceeds to 2014 charities November 2014: On Thursday, November 6. 2014 DLJ Give to Live Community Foundation producers of Jersey City Fashion Week donated proceeds to 2014 charities:Mo Mo'Hair Foundation, Keystone Griffins of the Hudson County Boys and Girls Club and The Concordia Learning Center at St Joseph School for the Blind with Mayor of Jersey City, N.J. Steven Fulop! Photo credits to Alton O'Neil and George Creekmore.
FOR IMMEDIATE RELEASE: Feb. 28nd 2014 Desha L Jackson Esq. Founder of DLJ Give To Live Foundation presented donation checks to Football Fashion Week Charities. New Jersey – City of Jersey Desha L Jackson Esq. Founder of DLJ Give To Live Foundation will present donation checks to Football Fashion Week Charities. Today at City Hall DLJ Give to Live Community Foundation Program Manager and Founder of Jersey City Fashion Week Desha Jackson donated to three charities highlighted during the January 2014 Pre- Super Bowl Football Fashion Week Program. GridIron Group which provides football camps for inner city children, Jersey City Recreation Foundation and the NY/NJ SnowFlake Youth Foundation.
"We hope these donations continue to help children and the

recreational activities your groups provide to them here in Jersey City and beyond. The Super Bowl provided us with a great opportunity to give back and bring attention to the work being done for children by these groups, says Desha Jackson, JCFW Founder Give to Live Foundation, producers of Jersey City Fashion Week, Atlantic City Fashion Week, and BK Style Foundation, producers of Fashion Week Brooklyn, collaborated during Football Fashion Week to restore and rebuild the community by exposing art and fashion by emerging designers to raise money for local non-profits. 2014 Football Fashion Week was supported by the City of Jersey City, Mayor Steven Fulop, City Council of Jersey City and the Division of Cultural Affairs of Jersey City! Jersey City Fashion Week (JCFW) presented by DLJ Give to Live Community Foundation, a project of United Charitable Programs a 501 c 3 registered charity, is a non-profit dedicated to promoting awareness for charitable causes within Hudson County through fashion, entertainment, and sports-related events. In the picture former NFL player Damien Gregory from GridIron Gang, JCFW Founder Desha Jackson, Director Ryan Strouther's from Jersey City Recreation, Kevin Cuskley Vice President Philanthropy & NJ Community Relations NY/NJ Super Bowl Host Committee representing the NY/NJ Snowflake Youth Foundation. Photo Credit: Patrick Drennen
2013
JCFW 2013 donations: Rising Tide Capital http://risingtidecapital.org/index.php/component/content/article?id=563
2012
Style with Significance! Jersey City Fashion Week! Fashion for a Greater Good on the right side of the Hudson!
Jersey City Fashion Week Donates Event Proceeds to Four Local
Jersey City Independent Article!
Earlier today,

Jersey City Fashion Week

(JCFW) put the final stitches into this year's work by presenting four local charities with proceeds from the citywide event.
In September, JCFW hosted a slew of events including four main ticketed shows benefiting Dress for Success Hudson County, Boys and Girls Clubs of Hudson County, York Street Project, and Stages, Art House Productions' youth theater program.
The first annual fashion week succeeded in helping spotlight both local and non-local designers and Jersey City businesses and organizations. The highlight of the week was the Emerging Designer's show at Liberty State Park, which attracted more than 200 fashion lovers, including Latin singer Natti Natasha and former NBA player and Jersey City native David Rivers.
Founder Desha Lang Jackson's Give to Live Community Foundation–which raises funds and promotes awareness for charitable causes through fashion, entertainment and sports-related events– donated $900 each to JCFW's four
charities today. The leaders of each charity were presented with the checks this morning at City Hall by Jackson and Mayor Jerramiah Healy.
"This is a big day for us and we are just so excited to be sharing it with the public," says Jackson, who is already planning next year's festivities.
"I want everyone who's working for and who's given money to this effort to see that it actually has substance, that it raises money for charities, that people enjoyed it and that businesses in Jersey City benefiting from people coming into the city," she told JCI in September. "Someday I would love to say that we have 1,500 people in the city during that week."
For more information, visit JCFW's

website

.

JCFW is Style with Significance- Fashion for the Greater Good on the Right Side of the Hudson!